Sydney 2008

Author: Mission Youth
Recap of Sydney 2008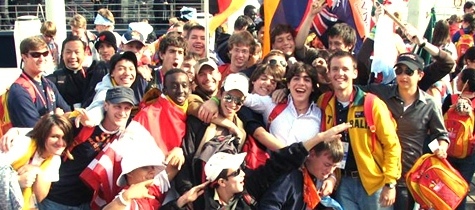 34 young men and women from the United States, Mexico, Canada and France came together for three weeks of missions and World Youth Day festivities. Missionaries hit the streets to get "the word" out about World Youth Day by asking for prayer intentions and inviting people to come back to the sacraments and attend the Closing Mass with the Holy Father.
Other mission activities included packing 36,000 lunches for the Closing Mass at Randwick racecourse, a scavagelization hunt around downtown Sydney, and passing out pamphlets during the Friday Stations of the Cross. Fr. Anthony Robbie of St. Dominic's parish in Flemington was very impressed with the missionaries commitment to bringing a message of enthusiasm about World Youth Day to his parish and community. He spoke to his parishioners about the great lengths the missionaries went to in order to pay and fundraise for their trip to come to Australia. The lives of the young missionaries were also impacted greatly as a result of the mission.
Missionary Stories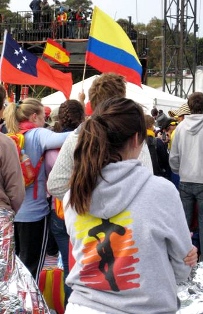 "I always know that when I'm with Mission Youth I will be getting as close to everything going on and as much as we can out of everything. It makes the experience hard but very rewarding."
-Angie Miller
"World Youth Day was an awesome experience and I was really blessed to go. It was great to see so many young Catholics from around the world. Seeing all the other youth gave me encouragement to live my faith more strongly. I can't wait until Spain."
-Zach Carlisle
"It was the greatest experience ever! During the live stations of the cross at World Youth Day, you could see conversions happenning and that was really cool! I realized that the Pope was the Vicar of Christ, not just some some holy man!"
-Bri Dubos
I was touched when I saw the Pope kiss and bless the sacred child. I touched my heart and made me better understand my faith."
-Danielle Wiart
"I absolutly loved packing lunches. It was hard work and very rewarding. Especially when the lunches were pasted out during World Youth Day. I thought "Wow, I packed some of those lunches for someone thats here"
-Danelle Gaucher